Economite RE4400DS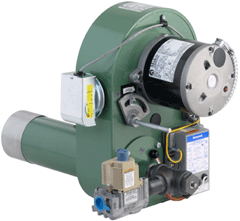 The Economite RE4400DS Power Gas Burner is engineered to meet the greatest variety of applications while performing at peak efficiency.
New blower and patent pending burner head design requires less oxygen, so the burner operates at optimal efficiency even under variable draft or positive pressure conditions, including high back pressure conditions. The compact design packs the power to meet or exceed industry standards. Easy to install and service with customized configurations, universal mounting flange and removable burner cartridge. Each unit is shipped fully assembled and is factory fire tested assuring dependable performance.
Specifications



*BTU/HR
Electrical Supply 115 – 60Hz
Gas Burner Draft Motors 115 – 60Hz**
Control Options
Combination 24V Redundant Gas Valve w/ Regulator
**Contact Midco for 50Hz applications (non-UL Listed)
Features & Benefits

Exceptional Performance
Top efficiency for optimal energy savings
All new patent pending burner head and retention plate design
Requires less oxygen for combustion
Operates under variable draft or positive pressure conditions
Electronic flame safety with direct spark ignition
New Flexible, Compact Design
Electronic flame safety with direct spark ignition
Customized configurations to fit any space:
Burner Tubes
Gas trains
Blower housing position

Multiple retention plates and flange options allow more flexibility in OEM and replacement Applications
Low Maintenance
Removable burner cartridge for easy service
External air shutter for easy adjustments
Field convertible to propane fuel
Pre-piped, pre-wired and factory fire tested
RE4400DS Burner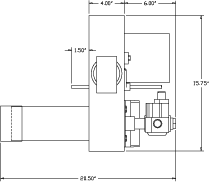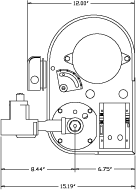 Whether you purchase an 'off the shelf' unit or have us create one to fit your application , you can be assured of having purchased the finest combustion power gas burner in the industry. When you need assistance in burner selection, installation or service just call Midco International direct today and we will put in contact with your local representative to find out more about our Economite RE4000 Series burners.
RE4400DS Series Flange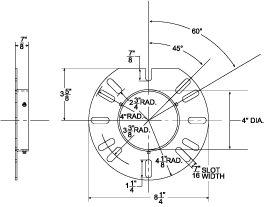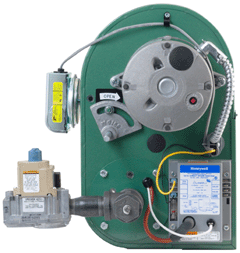 As an ISO 9001:2008 certified company, we proudly design, manufacture and assemble our products in Chicago, Illinois, USA.